fig-8 High Speed Electropolishing for inside of small pipe
fig-7 Principle of High Speed Electropolishing
fig-10 Cylindrical electrode for
High Speed Electropolishing
fig-9 High Speed Electropolishing for
Stainless Steel
New Electropoplishing-2-
"High Speed Electropolishing"-for big amount of removed surface-
High Speed Electropolishing harnesses high current density for several seconds, as the result amount of removed surface is from
10 to 50μm.
To obtain such high current density, the gap between needs around 0.1mm order and velocity of electrolytic solution needs over 1.0m/sec.
If velocity is low, hydrogen generated from electrode increases, as the result current density drops, then amount of electrolytic dissolution decrease.(fig-7)
It is used for big amount of working, as removal of defect texture,
r-shaped working, deburring etc.
For inside of small pipe, this method is used for improvement of
roughness of drilling hole or electrical discharge machining hole.
(fig-8)
For flat sheet, electrode is set parallel to work and electrode or
work is moved at constant speed.(fig-9, 10)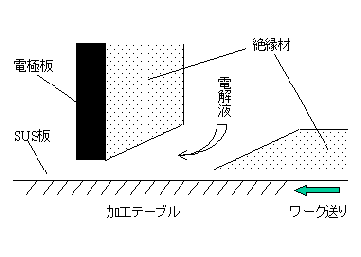 electolytic solution tank