Electro-abrasive polishing is a method of adding current density of 0.1A/cm2 order, while abrasive polishing under pressure of 5〜20kPa.

At this current density, electrolytic dissolution does't occur because of thick passive oxide layer, therefore surface roughness hardly improve.
At this time passing abrasive remove passive oxide layer, then it occurs
high efficiency electrolytic dissolution.(fig-3)

By passing abrasive on convex part, electrolytic dissolution increases at convex part, on the other, concave part remain unprocessed.
Then surface roughness is improved rapidly.

Rotating disk type tool is used for flat or curved suface of work.
Oscar type polisher is used for high flat suface besides high surface
roughness.

In case of small size circular cylinder, tool is given piston motion
addition to rotating(fig-6)

By Electro-abrasive polishing, you can get mirror surface of 3〜5
nmRa level from milling surface of 2〜3μmRy in several minutes.

In case of settling of good condition, super mirror suface of 1nmRa(0.001μmRa)can be obtained.

Next page shows some example of data by Electro-abrasive polishing
for a flat plate and inside of a pipe.
fig-4 Electro-abrasive Polishing for curved suface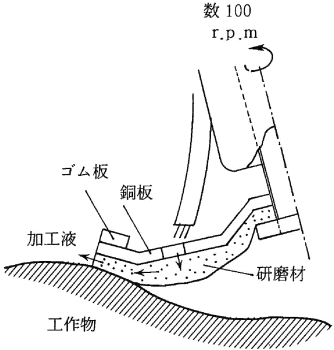 New Electropolishing -1-
"Electro-abrasive Polishing" -nano meter level mirror surface-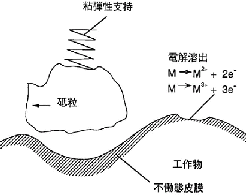 fig-5 Polishing with Oscar type Polisher
fig-3 Principle of Electro-abrasive Polishing
fig-6 Electro-abrasive Polishing
for inside of small pipe