In 1931 this technology was invented by Jacque in France, principle is that applying direct current between an electrode and a work soaked in electrolytic solution,, then the work of positive pole is polished.(fig-1)
The reason why it is polished is that vicous layer of low electrical conductivity occurs, then convex part of work dissolves easily than concave part.(fig-2)

This method is suitabale for mass production in a large electropolishing tank, and has advantage for various shape of works.
But there are several ploblems as follows.

1.Long polishing time and low efficiency
2.Tolerable luster, but low mirror surface
3.Bad working condition and fear of environmental pollution caused by strong acid or alkali.

Principle of Electropolishing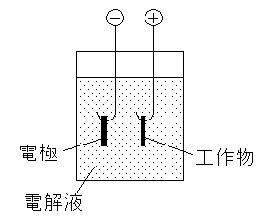 fig-2 Principle of Electropolishing
fig-1 Method of Electropolishing